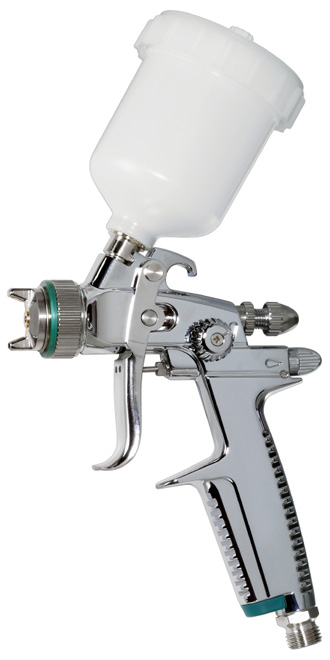 A chrome paint spray gun with a white paint reservoir is photographed on a clean, white background, before a bright palette of paint makes things more colorful. A paint spray gun is an effective
tool
that can quickly and precisely transform a paintable object or area through color and artistry.
---
Because of the amount of time they save, spray guns are one of the most popular air compressor accessories. As well as significantly cutting down on the amount of time it takes to paint, spray guns also provide a more even paint job and reduce blemishes.

In addition to spraying paint, spray guns are also capable of spraying stains, finishes, and even adhesives, such as contact cement. Besides standard general-purpose spray guns, smaller "detailing" spray guns enable the user to get into smaller spaces and attend to touch-up work and jobs that require more detail.

Spray guns come in a variety of constructions. Some of them mix the material to be sprayed inside the air cap, while others mix the material externally. Some of them have continuous airflow, while others have airflow controlled by a trigger. Finally, there are a variety of ways the sprayed material can be fed through the tip: by gravity, by pressure, or by siphon.

When selecting a spray gun, the most important thing to consider is the type of material you will be spraying. As a general rule of thumb, inexpensive guns will suffice if you are spraying lighter material, while thicker materials will require a more expensive, heavy-duty spray gun. If you are planning on spraying a variety of materials, choose one of the many guns that come with a variety of air caps and fluid tips, which will allow for more flexible use of your spray gun.
---
Copyright © 2011-2022 Air-Tools.org. All rights reserved.